A few weeks ago I published part 1 of a tutorial on how to make your own awesome patchwork star. Well, here is part 2! This tutorial will teach you how to turn the patchwork quilt block into a potholder. Potholders are ideal as a present: Everyone uses them and they are small so don't take too much time and materials to make.
This article is published before during the artisan craft week at
projecteducate.
I promise you a never-ending sense of pride and accomplishment when you're holding your first finished quilt.
In this article, I will discuss the following techniques:
Basting of a quilt
Quilting a quilt
How to sew a border around your quilt
Binding a quilt
If you want to know a bit more about the separate part of a quilt or how to make a quilt, see the following articles:
Which materials do you need?
18 x 19.5 cm of fabric for the border.
18 x 18 cm fabric for the back
18 x 18 cm fabric batting; either a piece of a fleece blanket or you can buy it in a quilt or craft shop
Quilting thread (quilting thread is best, but embroidery thread or any other thread you have is also fine)
Standard sewing notions (scissors, pins, needle etc…)
Fabric choices: I used the fabrics I also used for the star. You can choose any you want though! A contrasting border fabric will look very good as well.
Step 1: Basting your quilt
What is it?
A quilt consists of three layers: the top, a back and batting. When you bast a quilt you temporarily sew the pieces together with big stitches so the layers won't move when you start to quilt.
How do you do it?
1. Put the three layers together. The batting goes in the middle. The 'right' side of the backing and quilt block face the batting.  The right side is the front of your fabric which will be visible when the quilt is finished.
2. Cut off the excess batting and background fabric. Leave a border of around 2 centimetres.
3. There are two ways to bast a quilt: with pins and with thread. Normally I would not bother with thread for a piece this small, but I will show you both techniques.
Basting with thread: For this, you can use any leftover thread you have because you will remove it from the piece when it's finished.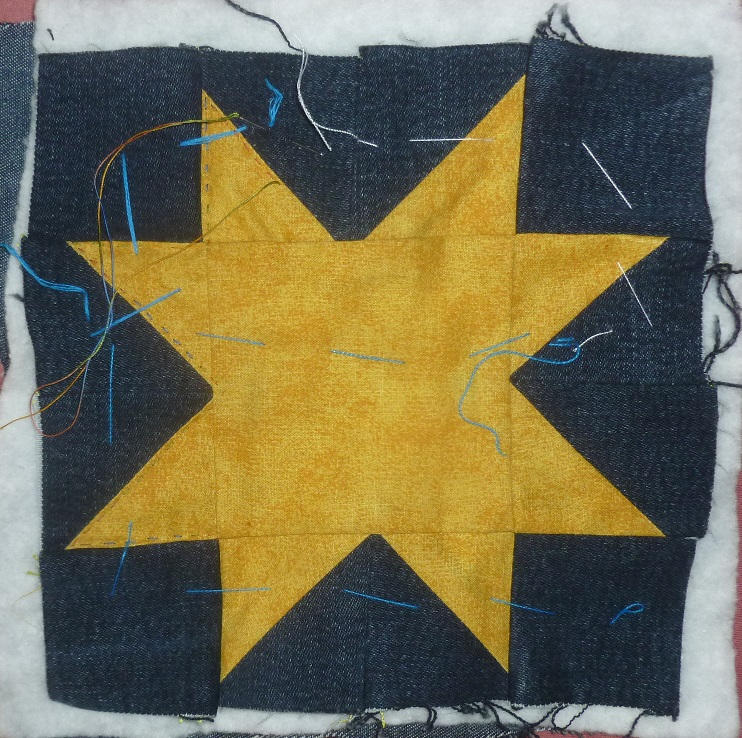 Basting with pins: This follows the same principle as basting with thread and is quicker. This technique is not suitable if the quilting will take a long time or when you're quilting a big quilt. The needles will either fall out or prick you when you're handling a lot of fabric.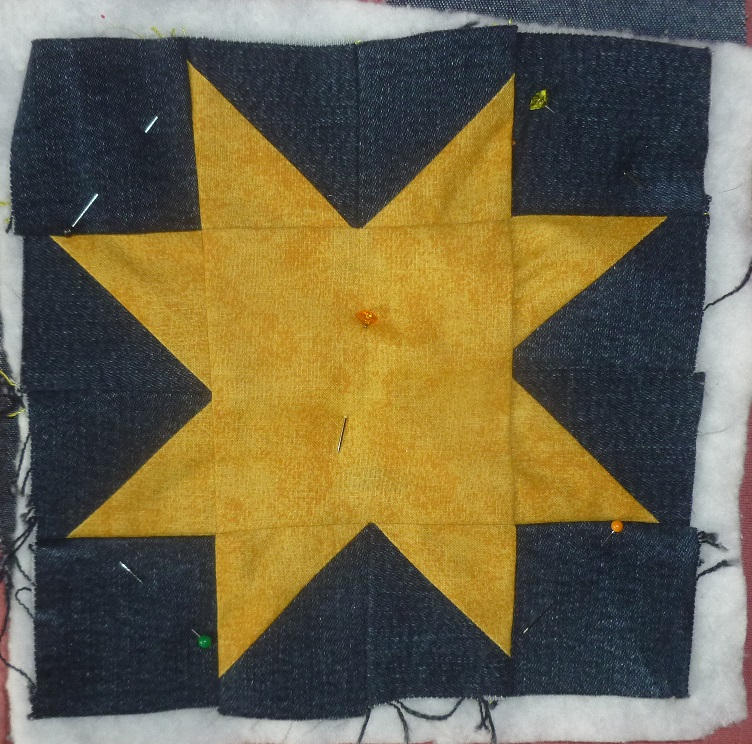 Step 2: The quilting
What is it?
The term 'quilting' or 'quilt' is confusing because they are both used for the finished object, a verb and for the process we're going to do now. Quilting means sewing through the three layers of a quilt. This is both to keep the layers in place, but also has ornamental value. Small stitches used to be the norm, but it is more important to create stitches of a consistent length. Quilting can be done to exaggerate the original pattern or to create a new kind of pattern. You see an example of both below.
How do you do it?
1. Thread a needle. Tie a knot at the end. Start with the first stitch where you gently pull the knot through one layer of fabric. This will secure the thread into the fabric.
2. Quilt in any pattern you want. I decided to quilt around the star shape, but you can also draw X-es in boxes, stripes, circles, whatever strikes your fancy!  The middle block is ideal for some initials as you see in my finished piece.
3. If your thread is almost gone, tie a knot near the fabric and finish in the same way you started by pulling the knot through one layer of fabric.
4. Keep repeating this process until you're satisfied with the quilting.
Step 3: Putting a border on your quilt
What is it?
To speak in the words of the brilliant Beyonce: 'if you like it, then you should put a ring on it'. And that is what we are going to do with this quilt! A border is like a ring around a quilt which finishes the raw edges.
How do you do it?
1. Cut your block to the right size. About half a centimetre from the points of the star.
2. Cut four border strips of 19.5 by 4.5 cm
3. Pin the border strips with the pretty side to the block and sew as you see in the picture. Use pins on the star points inserting them at 90 degrees from the line you'll sew. This will make the quilt look neater. Also, make sure an equal piece of the border fabric sticks out at either side of the block. That's why the border strips are longer than the block. You'll need that length later. When sewing the second set of borders don't sew over the borders already attached (as shown in the picture).
3. Now fold over the border fabric at the back and pin it down. You have to fold twice so the edge of the fabric is secured inside the border. The corner is always fiddly, the pictures show how I usually do it but stick to any way that works for you.
4. Sew the border to the back as shown in the picture, With this stitch, the stitches are nearly invisible.
Step 4: Finishing your quilt
1. This part is always a lot of fun: removing the basting thread.
2. If you haven't done that already, you can sew your initials in the middle block to make this quilt your own.
3. If you make many of these blocks and sew them together you get a big quilt!
I added two pictures of the finished result so you can see the initials I embroidered onto the quilt.
And now your first quilt is finished. Congratulations!
If you have any questions about this tutorial or suggestions leave a comment or sent me an email at bellagbearart@gmail.com! I am always open to help people to get into this quilting obsession.
I would love to see what you make with this tutorial, so please leave a link in the comments section once you do!
May this first quilt be the first of many more to come!
---
See my DeviantArt, Facebook page or Instagram (username: bella.g.bear.art) for more artwork and WIPs. You can also follow my blog by clicking on the button on the left or by filling in your email address. There will be a monthly update at the end of every month and a new blog post every Sunday or Monday.